Chinese New Year, also called "Spring Festival" in China, is under way under the light of the crescent moon; set by the lunar calendar, the Year of the Dog began Sunday with the New Moon.
Westerners usually think of Chinese New Year mostly in terms of the colorful and traditional Lion Dance celebrated in Chinese-American communities. For Chinese families, the New Year is a time of joy, when friends and families exchange gifts in envelopes colored bright red for luck, wish each other good fortune, and – getting to the point of this report – spend much of the 15-day period of celebration eating very, very well.

Chinese New Year is all about luck and prosperity, and it's no accident that the familiar New Year's greeting – "Gong Xi Fa Cai" in modern Mandarin – translates literally not as "Happy New Year" but "May you enjoy good fortune."
It was my great good fortune this week to receive a generous invitation from a Chinese-American friend, Robert Wang, to join in a traditional private New Year's banquet at Peking House in Springhurst, one of the city's three most authentic Chinese restaurants, where Chef Chen (of Taiwan by way of Richmond, Va.) is said to be the city's most classically trained Chinese chef.
As it turned out, we were the only non-Chinese guests in a room filled with happy revelers, and the only people who couldn't speak Chinese. But the group made us feel warmly welcome, and the three-hour, multi-course banquet was surely the most memorable Chinese dinner I've ever enjoyed.
Chinese New Year's Dinner at Peking City
We arrived to find quite a few revelers already on hand, a few of them wearing colorfully stylish Chinese jackets in bright silk. Several were drinking a clear pale fluid from large teacups. Tea? I thought so at first, but no. Hennessy Cognac. No wonder Chinese New Year is so jolly! I passed, knowing that there'd be wine.
Soon the group settled in at four or five large round tables fitted with lazy-susan tops so you could orbit the dish of your choices within reach. Awaiting our attention were large trays of watermelon seeds and pumpkin seeds, tea-smoked and spiced with star anise, to be cracked between the teeth and enjoyed with drinks. These were quickly followed by large platters containing cold dishes: One was filled with a pile of tea-smoked duck, tender and redolent of woodsmoke, cut into bite-size pieces on the bone; the other bore five goodies assembled into a turban-size mound: "Drunken" chicken marinated in a sweet fruit liqueur; Shanghai-style white fish, bite-size pieces enclosed in crispy fried breading; long, thin, translucent strips of spicy beef tendon; pressed tofu, chewy and savory, a "vegetarian meat;" and on the top, a ration of spicy shredded "hacked" chicken with shredded cucumbers and scallions.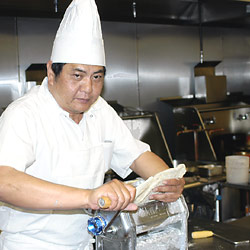 Bearing a coincidental resemblance to his Iron Chef namesake, Chef Chen makes Taiwanese wheat noodles on his Italian pasta machine.
Then, one at a time, almost too fast to keep up with, came a New Year's Day parade of dinner dishes, a dazzling array of meats, poultry and fish, each distinctively different in color, texture and flavor, demonstrating that a Chinese banquet compares to a Western banquet as a symphony compares to a sonata.
Lobster with garlic and ginger was a spectacular presentation, cut-up pieces of two lobsters in the shell for each table, surrounding the heads and claws, the heady aromatics of garlic and ginger permeating every bite of lobster.
Kung pao squid, artfully sliced bites of squid and peanuts and dozens of dark, toasted cayenne peppers ("Don't eat those," a server warned) in a thick, fiery brown sauce infused with a subtle smoky heat.
Clay pot chicken, a remarkable dish of tender, bone-in chunks of chicken meat suffused with the perfumed aromas of a large amount of fresh ginger and fresh basil leaves all steamed together in a tightly sealed clay pot.
Clear Fish soup with chunks of mild white fish on the bone and pickled cabbage (symbolic of "long life"), served on a portable burner to keep it bubbling hot.
Hakka style shredded pork with julienne strips of pressed tofu and dried cuttlefish and scallions, served dry with no sauce but scented with elusive smoke flavors and spicy heat. One of the most unusual dishes of the evening, and one of my favorites.
The main courses wrapped up with two traditional dishes of New Year symbolism: A whole, tender roast pork hock enclosed in a thick layer of rich fat ("It means wealth," one gentleman confided, knowingly patting his posterior and laughing … ); and a pair of whole tilapia topped with a spicy-salty sauce of black bean sauce and pork ("the word for fish is "yew," Wang said, which also symbolizes "plenty" or "savings.")
That concluded the dinner dishes, but still more was to come:
New Year's rice cakes, two-bite balls of sticky rice cloaked in a slightly sweet, crispy deep-fried coating; slices of apple and orange – symbolizing peace and prosperity respectively – and red grapes; and a cool, sweet dessert of red bean soup swimming with red beans and grape-size chewy, starchy balls made from what one of our tablemates said was pounded rice and green bean flour.
As the evening wore on, the food and drink and conversation and toasting and good-luck wishes just kept on coming. Mr. Chen circulated through the room, passing out little square red-for-good-luck envelopes to all his family and employees, discreetly stuffed with crisp green presents.
After a while, quite a few people gathered around a big-screen television in the back of the room, singing karaoke in Chinese. They actually sounded pretty good. Or maybe it was the food, the wine and the conviviality that made it seem that way. It was a memorable experience, and an honor to be permitted to share in it, and to feel so comfortably at home among friends.
Peking City is located at 3571 Springhurst Blvd., (502) 425-0188. It offers both familiar, well-made Chinese-American restaurant dishes and a more adventurous menu of Chef Chen's Taiwanese dishes. Initially reluctant to offer the authentic menu to Westerners, management has become more open to the idea and now offers a Chinese-English menu with photos of many of the Taiwan courses.