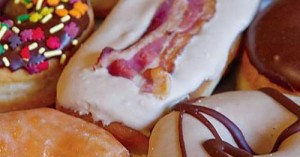 Who doesn't like doughnuts? There's something comforting about these fried spheres of goodness with a hole in the middle, and most doughnut lovers have strong opinions on the subject.
Louisville boasts many local bakeries and doughnut joints. But not all doughnuts (or, if you prefer, "donuts") are created equal, so I set out to try a random sample of five locals to see how they compared.

To keep the test as objective as possible, I requested a glazed doughnut at each stop. I also requested that the person who waited on me select his or her personal favorite. I discovered some big differences from place to place.
At many popular locations, you must get up early if you want the best choice. You may also want to call ahead, as hours and days of operation vary. Also, it's best to have some cash with you, because a number of these establishments either don't accept plastic or add a charge for credit card purchases less than a set amount.
I started my doughnut odyssey in Middletown at Police Donuts. The strip-mall location is bright and clean, with portraits of famous TV cops along the wall. I ordered a glazed and asked the friendly counter-person for her favorite: a pumpkin cake doughnut with cream cheese icing. The glazed version had a nice layer on top, but I found the dough to be a little dense and not very yeasty — it kind of reminded me of a glazed dinner roll. I had hope for the pumpkin doughnut, as I love cream cheese icing, but the doughnut suffered from being a little dry and tasted more like spice cake than pumpkin. They weren't bad by any means, but I wouldn't go out of my way to visit.
Police Donuts (CLOSED)
12416 Shelbyville Road
244-1880
Donut Kastle in Lyndon is the kind of place where older gentlemen like to linger over coffee and complain about politics and college sports. Unfortunately, having never been there before, I discovered they don't take plastic, and I didn't have cash. No worries, the helpful clerk said, "Take 'em and just bring back payment later." The glazed had a pretty thick coating, and the dough had a crisp, sweet quality. The buttermilk doughnut was first-rate and not too sweet. Now I get why this place is so popular.
Donut Kastle (CLOSED)
608 Lyndon Lane
741-6466
Sugar & Spice in Fern Creek is quite popular as well, as evidenced by the line that extended out the door when I arrived early one morning. Don't let the crowd scare you away: The service is fast and friendly. I ordered a glazed and an apple "critter." The first thing I noticed is that their doughnuts are considerably smaller than usual. The glazed was thickly coated, and the dough was light and yeasty but not overly sweet. The "critter" was a fist-sized glazed knotty sphere. It was not at all what I expected — I've eaten many apple fritters in my day. In the middle was a nice portion of jellied apple filling. Pretty darn tasty, even if they are small.
Sugar & Spice
5613 Bardstown Road
231-1411
Nord's Bakery in Germantown is home of the famous Maple Bacon Doughnut. It sounds weird until you try it. The sweet-salty flavor combination is a great way to start the day. The glazed doughnuts are light and yeasty with a hint of vanilla. They also make a mean apple fritter — crispy, full of apples and lots of nooks to hold pockets of glaze. Service is friendly, and the venue is definitely old-school. I'll rank Nord's No. 1 for the best doughnuts, service and atmosphere of any bakery in town.
Nord's Bakery
2118 S. Preston St.
634-0931
I grew up on the doughnuts at William's Bakery in Clarksville. As a kid, I loved their Long Johns. I used to dig up couch change and ride my bike there to get one. Surprisingly, they really are as good as I remembered. They have a tasty thick chocolate glaze over light and crispy dough with a hint of sweetness. The glazed are almost a clone of Nord's. The apple fritters were not as successful, though. I found them rather doughy and bland. —Dan Thomas
William's Bakery
1051 N. Clark Blvd.
Clarksville, Ind.
812-284-2867
Dan Thomas has held executive chef positions around Louisville at Café Metro, Equus and Big Spring Country Club. He is now catering supervisor for Jefferson County Public Schools and serves on the board of directors for the American Culinary Federation's Kentucky Chapter.