Let me tell you three important things about Ostra, the stylish restaurant that opened last summer in Clifton:
It is very loud, so loud that a sudden shout can – and often does – spike its noise level into the potentially hazardous zone above 90 dB.
It is very dark, so dark that it's not always easy to make out what's on your plate.
It is very, very good, so good that I really don't mind that it's loud and dark. I'd go back in a heartbeat.
It also serves, among other things, a chocolate brownie made of crickets.
Yes, you heard that right: Ostra is Louisville's first restaurant serving insects, and that's no mere whim. Executive Chef Adam Burress, whose outstanding restaurant portfolio includes Hammerheads, Migo and Game, is intentional about highlighting foods that are sustainable and locally sourced from small farms.
Insects are prized as delicacies in many countries in the global South. America hasn't caught up with the rest of the world yet, but that may change in this century. Burress is kindly offering us a head start.
Don't worry, though, the brownie is the only item on the extensive menu that contains insect life. There's plenty of seafood, including several oyster dishes plus uncooked poke, seviche and more. Other meats are chosen for their sustainability and availability from local farms, including wild boar, duck, chicken, and rabbit. If you want a steak or a chop, you'll have to look elsewhere; but it's your loss if you do.
Oysters and raw fish dishes range in price from $6 (for oyster shooters) to $15 (for poke or hot oysters on the half-shell). Three creative salads are $12 or $13, and bocata – mini-sandwiches on pretzel buns – are $8 or $9. A dozen main dishes are priced from $10 (for bang bang cauliflower with jalapeño risotto) to $23 (for lobster Fra Diavolo).
While we peered at our menus in the dusk, we gradually became aware of the cool, stylish, vaguely brutalist style of the dining room. The walls are dark gray, with a few scattered art works. The floors are pale-gray concrete, save for large black-and-white tile squares in the Z-shaped bar. Table tops are irregular slabs of marble and granite, set with small but comfortable chairs. About 15 dimmed lights hang overhead, each enclosed in a wicker basket shade.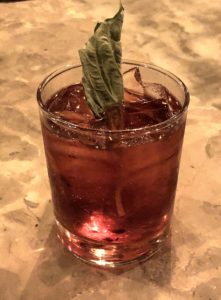 The drinks list features craft beers, creative cocktails, and about 30 well-chosen wines. I started with a wild Thornberrys cocktail ($9), a yummy first cousin to a negroni that added sweet-tart blackberry flavor and a basil leaf to the usual gin-Campari mix.
An intriguing non-alcoholic "ducktail" called Webby Wanderquack ($5) brought together a wacky combination that really worked: hot chaga, Japanese mushroom infusion, scented with peppermint and vanilla and served hot in a large cup. It was delicious: minty and not too sweet, a haunting flavor that lingered.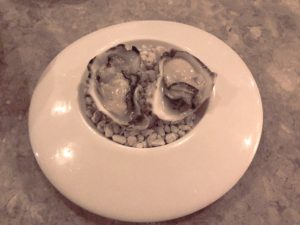 Two West Coast oysters on the half-shell ($4 each) were ample in size, served on a bed of rock salt. They went down smoothly and tasted of fresh ocean water, cold and clean.
Poke ($15), a Hawaiian raw-fish dish, was just as delicious. Perfectly fresh sockeye salmon was diced and tossed with sesame, soy and a dash of red chili, mounded on banana leaves in a boatlike wooden bowl, topped with a dab of Japanese seafood salad. It was citrusy and cold, and made us want to order more.
Two bocata small plates won applause for flavor and texture. A crispy mushroom banh mi ($8) loaded a soft pretzel bun with startlingly crunchy fried mushrooms atop a schmear of earthy mushroom paté, crunchy pickled vegetables, a dab of kimchi mayo and chopped cilantro. A Klaus's pretzel bun bore potato pambazo ($8), a spicy Mexican-style sandwich, included ancho pepper-scented potatoes, Brie, cranberry, and grilled kimchi. Surprising, unexpected, yet amazingly good combinations of flavors: This is what Chef Burress does, here and at his other properties.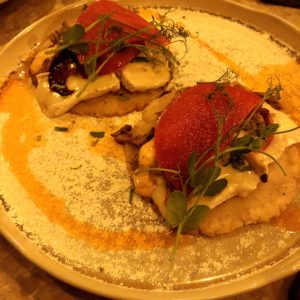 An order of duck tacos ($18) hit the spot, two open-face tacos built on fresh, thick masa tortillas topped with mild Brie, juicy pulled duck, garlic chips and a thin slice of pickled beet, sauced with a subtle, intriguing hibiscus molé.
By this point the chef had built such a trust level that we were ready for cricket brownies ($9) after all. Pictured at the top of the page, they're made with cricket flour, ripe banana, and coconut, and they're fine brownies, without any obvious presence of crickets at all. A generous portion of four long, stacked oblong brownies wAs drizzled with chocolate and crême anglaise and topped with a flower and, wait for it, a desiccated cricket on top. Our friend Mona earned applause when she ate the bug.
Dinner for two, with a cocktail and a ducktail, came up to $84.80, plus an $18 tip.
Ostra
1758 Frankfort Ave.
915-0160
ostralouisville.com
facebook.com/ostralou
instagram.com/ostra_lou
Robin Garr's rating: 92 points
Noise level: Make no mistake, with its hard edges and jovial crowd, Ostra is loud, particularly when every table and bar seat is occupied. (Average sound level 85dB, with occasional bursts to an ear-shattering 94dB.)
Accessibility: The older building has been thoughtfully renovated to afford access to wheelchair users at the entrance and in the restrooms.