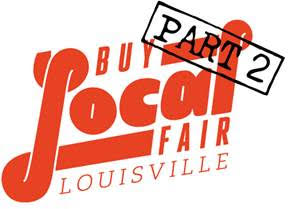 LIBA Buy Local Fair Part 2.0
Saturday, June 8 4-7 p.m.
Louisville Slugger Field, Hall of Fame, 401 E. Main St.
FREE ADMISSION
Louisville City FC game to follow at 7pm, $15 tickets will be available from LIBA.
Plenty of street parking available, or Slugger's lot ($10 after 5 p.m.)
Many of you know that our original Buy Local Fair (May 19), was cut short by high winds and sporadic rain. (Sincere thanks and appreciation for all of our members, volunteers and patrons who made it out that day!) After numerous conversations with the National Weather Service, we were hopeful the weather would pass us by, but alas! Mother Nature had other plans and we closed halfway through. Now we have unfinished business, and we want to make good!
Join us for a 3 hour event featuring what everyone comes for at the Fair: LOCAL BUSINESSES! We'll be indoors this time in the Hall of Fame at Slugger Field.
* SHOP with a variety of local businesses – from handmade jewelry to furniture to clothing and much more.
* Visit our SILENT AUCTION to check out over 130 amazing products from our local businesses. (New – see items and start bidding NOW! Need not be present to win.)
* We also have TICKETS available for the Louisville City FC vs. Loudoun United FC soccer game that follows at 7pm. Just $15 per ticket, purchase here! (Usual walk up rate is $21.)
#BuyLocalFair #BuyLocalAuction