Two new spots — Dish on Market and Hillbilly Tea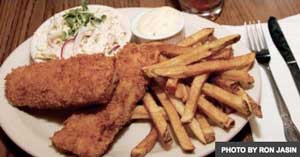 If dinner is about dressing up, hitting the town and unwinding at the end of a long day of work, lunch has more to do with packing as much enjoyment as we can into a breather from the toil. Two recent arrivals downtown do a worthy job of satisfying the crave.

Dishing at Dish
Dish on Market is heir to its predecessor, the Delta Restaurant, which was for many years a virtual clubhouse for attorneys and pols fleeing the nearby courthouse and City Hall. It boasts the strong presence of Asiatique bartender Anderson Grissom as owner and host, and Dave Nelson, formerly of Nio's and other local eateries, as chef.
Beneath Dish's freshened lines, you can still see the shape of the old Delta, in the red-brick walls, the lofty ceiling and the long, narrow room lined with booths and a Cheers-style bar. The menu, though, veers toward bistro-style, serving breakfast dishes, plus soups, salads and sandwiches for lunch.
Breakfast ranges from $2.75 for a build-your-own omelet (adding 50 cents to $1 for each ingredient) to $6.75 for the low country shrimp and grits. Lunches hover between $6 (for a Monte Cristo or roasted tarragon chicken salad on sourdough bread) and $8.25 (for fish and chips made with sustainable, line-caught cod).
The shrimp po boy ($7.25) consisted of a generous ration of tender shrimp fried in a light tempura-style batter, served with Creole rémoulade on toasted ciabatta. The soup of the day, $1 with lunch, was an artfully prepared cup of cold cucumber-melon soup topped with a dash of jalapeño oil.
The fish and chips ($8.25) consisted of two beautiful cod planks, golden-brown and grease-free, with French fries that appeared hand-cut.
Later in the afternoon, Dish adds a growing list of happy hour small plates (all $7), including smoked salmon spring rolls, sorghum goat cheese fritters and a steamed mussels dish that's the buzz of the courthouse. With $3 well drinks, I think the Delta's old crowd of barristers will keep on coming.
Lunch for two just crossed the $20 line, with a $5 tip.
Dish on Market
434 W. Market St.
315-0669
www.dishonmarket.com
Robin Garr's rating: 87 points
Urban hillbillies?
Let's get one thing straight: As a deeply rooted Louisville native whose family has been around here since it was just a smallish river town, I'm not sold on the notion that we're either Southerners or hillbillies. Institutions that buy into these shticks to build a brand personality don't impress me.
But I got over it sufficiently to approach Hillbilly Tea with an open mind, and I'm glad I did. Although we found the food and the friendly but offbeat service a bit hit-or-miss, when Hungarian-born chef Arpad Lengyel is on, he's right on. The best of the dishes we tried were impressive indeed, and the worst weren't bad.
Hillbilly Tea bills itself an Appalachian-themed "Tea Café" with a variety of fresh, organic whole-leaf teas and a menu of "wholesome mountain-inspired comfort foods."
The downtown storefront offers an unpredictable mix of urbane sophistication and tongue-in-cheek Appalachian themes. Daisies in delicate bud vases stand alongside iced tea served in Ball canning jars. Elegant matted photos depict staples of country life, such as old trucks and rows of rocking chairs lined up on the porch. A heavily tattooed server with nose rings and a big smile brought us a menu that lists pine-smoked bison ($7), succotash ($3), smoked tofu ($6) and a vegan 'billy veggie burger ($6).
We noshed our way through a startling swath of the menu, taking a lot of it home in boxes.
Crawdad and shrimp chowder ($5) was intriguing in concept but disappointing in execution. A couple of good-size crawfish in their shells looked impressive but, soaked in soup, were difficult to disassemble by hand. The few small shrimp were overcooked and rubbery. They swam in a thin, spicy curry broth that was good eatin' but not chowder by any reasonable stretch of the definition; and the nearly raw chunks of broccoli added at the last minute may have been healthy but seemed an odd, out-of-place addition.
Mary's pine-smoked buffalo ($7), sliced from roulade-style Kentucky bison and stuffed with spinach and pine nuts, was more convincing. The bison was flavorful and mostly tender, with a few chewy bits, but I'm not convinced that pine smoking is an idea whose time has come.
I took a chance and satisfied my inner vegetarian with a dish of barbecued tofu — look, I like tofu, OK? — braised in a bourbon barbecue sauce ($6). Five or six pressed and smoked slices formed a protein base for a decent, glossy tart-sweet barbecue sauce. It wasn't pulled pork, but I ate it with enjoyment.
The baked sweet potatoes were tender and savory. My wife approved of her braised greens ($3), and a ration of crispy fried liver bites ($3), chicken livers done tempura-style, were addictive and filling. The multi-layer caramel cake ($5) made for a splendid wrap-up.
Our bill on a first pass through the line was $27.45 plus a $6.55 tip. Mary went back up to try more sides and a slice of caramel cake, adding another $11.66 to the toll.
Hillbilly Tea
120 S. First St.
587-7350
www.hillbillytea.com
Robin Garr's rating: 83 points