To gain real insight into other people, walk a mile in their moccasins. This simple old wisdom still feels fresh, maybe more than ever these days. Here's another saying, not so famous, because I just made it up: To get to know friends from around the world, sit down to a meal of their food. While you're there, talk to the owners and workers if you can, and thank them for making our town a more diverse and interesting place.
This is easy for me. I've always been excited by the opportunity to try food from all over the world, and to get to know the people who make it. I recommend it to you, too. Here's a good way to start: drop by either – or both – of the downtown Ethiopian restaurants where I've enjoyed lunch recently: Addis Grill on the north side of the business district, and Abyssinia Authentic Ethiopian toward downtown's southern end.
(Abyssinia, by the way, is named after the ancient moniker for this East African nation; Addis is named after Ethiopia's capital, Addis Ababa.)
We stumbled into Abyssinia's simply decorated rooms for a late Saturday lunch. Tired, hot, and sweaty after participating in a pro-refugee and anti-I.C.E. demonstration downtown, we appreciated the cool, dim scene with white curtains drawn over the front windows. Abyssinia more than satisfied, with tasty Ethiopian fare and friendly service. We missed the $8.95 weekday lunch buffet, but I didn't mind, since I'm just as happy to have my order made fresh in the kitchen.
There's plenty to choose from on Abyssinia's oversize menu, starting with eight appetizers that range in price from $3 (for jalapeños stuffed with onions and tomatoes in a tart lemon dressing) to $7 (for beyaynetu, an appetizer sampler platter). You can ask for the 27 main dishes by number in case you're not up for pronouncing "timatim fitfit" ($9.95), a traditional dish of injera bread cut into spicy tomato sauce. Prices go up from there to a max of $15.95 (for girgiro, lamb cubes pan-fried with tomatoes, onions, and jalapeños). There's full alcohol service including short beer and wine lists and cocktails.
Addis Grill fills a good-size, bright storefront with dark-red walls. Light wood booths and tables are tightly fitted to accommodate a capacity crowd. There's no buffet; management takes pride in fashioning your dinner to order. The menu, with both Ethiopian and Mediterranean fare, is posted on the wall near the counter. Beer, wine and liquor are served.
The lunch menu features 15 appetizers and salads from $6.25 (for hummus) to $11 (for a sampler platter); four Ethiopian plates are $8.95 to $10. All the lunch specials are vegetarian or vegan. Carnivores needn't fear, though, as there are two dozen more options, including chicken sandwiches and plenty of Ethiopian and Mediterranean plates featuring beef, lamb, chicken, and fish, ranging in price from $8.50 to $19.95.
We got a big sampler platter at both places – combo plate No 1 ($12.95) at Abyssinia, and the Ethiopian lunch sampler ($10 for one, $19 for two), pictured at the top of this page, at Addis. They were quite similar, both laid out on big rounds of injera, the thin, tangy brown flatbread that's used both as a base for the food and as a utensil that you tear into pieces to wrap the goodies to eat with your fingers.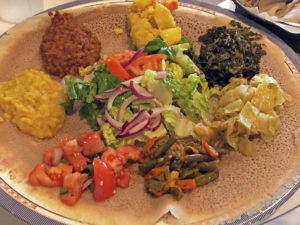 Abyssinia's selection of red lentils, split peas, cabbage, collards, green beans and carrots around a lettuce-and-tomato salad in the center had a little more subtle and complex flavor, maybe; but the sampler at Addis was good, too, and kicked up the heat with split peas, green beans, cabbage and collards built around a generous portion of fiery red lentil misir wat in the middle.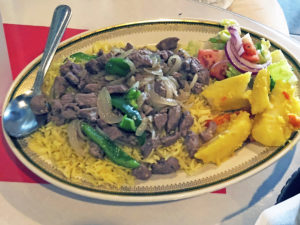 Tips, a.k.a. tibs, is the Ethiopian word for stewed meat. Abyssinia's lamb tips with rice ($11.95) was lovely, chewy lamb cubes simmered with onions, butter and mild spices. Long grain basmati rice was cooked to perfection, each grain separate, flavored with butter, lamb drippings and turmeric.
A kosta wrap ($4) appetizer at Abyssinia featured fresh spinach sauteed with diced onion and garlic and rolled like mini-burritos in injera.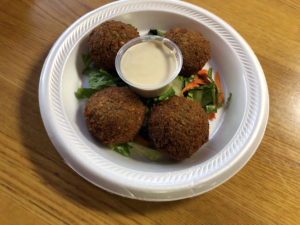 We also tried Addis Grill's Mediterranean fare with falafels ($8). Four muffin-shaped rounds were deeply fried dark-golden brown with a crisp, grease-free crust cloaking a hot, tender interior flecked with parsley and spicy red-pepper flakes, served with tahini and two cold pita quarters in cling wrap.
Lunch at Abyssinia was $30.63 for two, plus an $8 tip. Lunch for two at Addis Grill was $20, plus a $6 tip.
Abyssinia Authentic Ethiopian Cuisine Restaurant & Bar
554 S. 5th St.
384-8347
abyssinialouisville.com
Robin Garr's rating: 85 points.
Noise level: We had Abyssinia to ourselves on a quiet Saturday. Expect more noise when there's a crowd. (Average sound level 60-65 dB.)
Accessibility: There don't appear to be physical barriers to wheelchair users.
Addis Grill
109 S. 4th St.
581-1011
addisgrill.com
Robin Garr's rating: 86 points.
Noise level: Addis Grill is busy and noisy for weekday lunch, and undraped tables echo sound, but conversation was possible. (Average sound level 67-78 dB.)
Accessibility: The entrance is accessible to wheelchair users, but closely spaced tables may limit wheelchair users to the side of the room closer to the front door.