Some of Louisville's favorite restaurants have their roots in other cities. Consider Selena's, for instance, which came up from Tampa almost a decade ago. Or Jeff Ruby's, which added Louisville to its thriving Cincinnati metro operation; or even Vincenzo's, which can trace its roots to the Hill in St. Louis.
Now let's put our hands together for ROC, an elegant eatery that owners Rocco and Stacy Cadolini pretty much loaded on a moving truck in Manhattan's Tribeca and unpacked in Louisville's Highlands last month.
ROC didn't leave Gotham without some weeping and gnashing of teeth. The Tribeca Citizen bid the Cadolinis a fond farewell at the end of February, saying, "Roc is one of those restaurants that has always seemed ingrained in this neighborhood." Until it wasn't.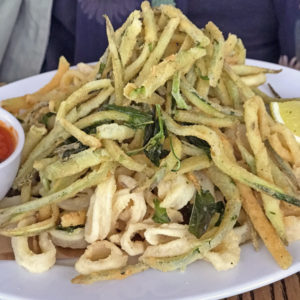 Zagat's crowd-sourcing scribes fancied it, too, with 4.1 out of 5 points for its food: "Year after year, this warm TriBeCa standby remains roc-solid for fancy Italian classics courtesy of delightful owners who make you feel at home; a comfortable atmosphere with fantastic outdoor seating distracts from prices that slant expensive."
That description fits ROC in Louisville well, too. Located in the Highlands Victorian that once housed Butterfly Garden, it has been considerably renovated. Its attractive, spacious off-white rooms are trimmed in blue-gray. A long bar abuts the crowded main floor, which is set with undraped wooden tables and wood-and-metal chairs. A more upscale room is upstairs; we chose the small, glassed-in front porch, which offers a great view of Bardstown Road.
Rocco Cadolini hails from Sorrento – surely you've heard the song – and you'll find a few regional dishes on the menu, such as gnocchi alla sorrentina ($19) with tomato and mozzarella, a caprese salad ($14), and octopus and squid-ink pasta dishes. By and large, though, most dishes reflect the standard Italian canon, such as fettuccine Bolognese ($20) and Tuscany's classic grilled steak ($38).
A dozen pastas and sandwiches range in price from $14 (for a prosciutto and mozzarella panino) to $30 (for black squid-ink tagliarini with half of a lobster). Just six entrees range from $22 (for chicken breast with porcini) to $38 (for the grilled steak). Eleven salads, soups and appetizers are $7 (for minestrone) to $16 (for grilled octopus with potato cake).
A short but well chosen wine list offers a few affordable items and more than a few in the trophy range, while cocktails are $10 to $12.
Our meal began with a generaous portion of dense, cakey Italian bread rendered a surprising yellow color by semolina flour, accompanied with a slab of rich European-style butter.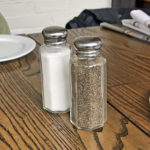 ROC, in contrast with many high-end restaurants, places simple, diner-style salt and pepper shakers on every table, and we made good use of them. While every dish was enjoyable, we were surprised that several dishes needed that extra kick of flavor.
The Stacy salad ($9), for example (named after the co-owner), consisted of a lot of romaine, just two large marinated artichoke hearts, and skimpy rations of sliced fennel and cucumber, cherry tomatoes and roasted pepper in a mustard vinaigrette. Extra salt was its friend.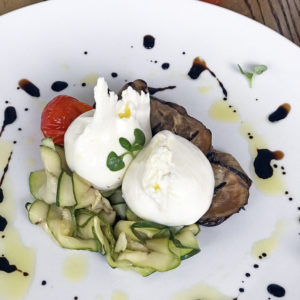 On the other hand, burrata fresca ($15) two succulent little purses of fresh mozzarella filled with shredded mozz' and heavy cream and placed on paper-thin, marinated warm zucchini and eggplant with a balsamic drizzle, heeded no salt at all.
We reached for the shakers again for a mountain of fried calamari ($13), that was all rings, no tentacles, lightly fried, still pale but grease-free, scattered with chopped herbs but, apparently, not salted at all. The long, slender zucchini strips were fried tempura-style, crisp, delicate and addictive. A decent spicy marinara came in a crock.
There was no flavor issue with an excellent ravioli di ricotta con salsa di noci ($20), thin silver-dollar fresh-pasta rounds filled with a bit of cheese and topped with a delicious chopped-walnut cream sauce.
A fish entree, though, Branzino al cartoccio (pictured above, $30), made us wonder what the chef was thinking. Now, don't get me wrong: This popular farmed Mediterranean fish, soft textured and slightly oily, was pleasant enough. It was beautifully presented in a foil wrapper, ceremoniously snipped open at tableside to reveal the large, skin-on fillet topped with julienned carrot, celery, zucchini and onion. But the light flavor of the white fish was all there was. No salt, pepper, lemon, garlic, butter, oil? No. None of the above. It was a dish with no flaw but monk-like abstemiousness.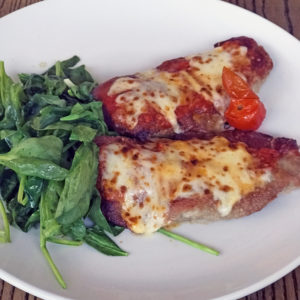 No salt and pepper was needed for veal scaloppine ($28), two thin, tender boneless pieces pounded flat but not paper-thin, topped with a blanket of marinara and molten cheese, with a good portion of just-wilted garlic-scented spinach on the side
Dessert, ($9), may have been the most flavorful dish, and it won the beauty pageant too. A pale-green round of subtle, pudding-like pistachio panna cotta was joined by a bright magenta pillow of tart, palate-cleansing raspberry sorbet.
ROC is open for dinner only, daily except Monday. Our share of dinner for two was $106, plus a $25 tip for our affable server, Bonifacio a.k.a. "Flaco."
ROC Restaurant
1327 Bardstown Road
459-7878
facebook.com/RocRestaurant
Robin Garr's rating: 85 points