By Robin Garr
LouisvilleHotBytes.com
I hope everyone enjoyed Louisville Taco Week last week and ate your fill. There's a lot to like about a promotion that brings you tacos for $2.50 a plate at close to 20 local Mexican-style eateries!
I had big plans, but peaked too soon. All the advance advertising gave me such a powerful taco crave that I rushed out to Gustavo's Mexican Grill and ate my fill a week before the event.
It was worth it.

If you missed out, it'll be around again next year, I'm sure. And similar promotions abound, including Louisville Burger Week, Louisville Hot Brown Week, Louisville Pizza Week, Louisville Restaurant Week, Margaritas in the 'Ville, and Louisville Wing Week.
They're all worthy, and I hope you enjoy them. We're here to talk about tacos and more Mexican culinary delights today, though, and Gustavo's does them very, very well.
Like several other local Mexican restaurant groups – Los Aztecas, El Nopal, and El Tarasco come to mind – Gustavo's is the product of an entrepreneurial immigrant from South of the Border. Gustavo's owner and namesake, Gustavo Reyes, has built a popular business with a bilingual menu, friendly servers, and Latin-accented food that pleases just about everyone.
We tried the most recent shop in the group, Gustavo's Hurstbourne property, which opened about a year ago in the much-renovated and spacious 300-plus seat venue vacated by a Romano's Macaroni Grill.
A wealth of menu options
The colorful eight-page laminated menu offers more than 150 options across its eight pages. Dishes are clearly explained in English, so don't fret if you don't know what queso fundido means … you can learn right on the spot that it's a cheese dip made with Mexican Chihuahua cheese.
Dishes are sorted by category, from appetizers, salads, quesadillas, tortas and sopas through house specialties and signature dishes; steaks, seafood, vegetarian items and chicken dishes, fajitas, combo plates and a lunch menu. Virtually all main-course dishes are $10.99 to $16.99 range, with only a couple of steak items exceeding that by a buck or two.
Gustavo's chips and salsa are exceptional: The chips appeared to have been cut from fresh corn tortillas and fried in-house. They're thick, shattering crisp, and grease-free. The salsa was thick and textured, dotted with bits of cilantro. It comes only in one mild flavor, but bottles of red and green hot sauce are handy on the table so you can doctor your own to taste.
Birria tacos: A family recipe
Let's get right to the tacos: Gustavo declares that its quesa birria tacos ($15.99) use a traditional family recipe. The Jalisco original usually uses goat or lamb meat, but here in El Norte beef is more popular. Gustavo's uses Certified Angus Beef, roasted with mild guajillo chilies, herbs and spices, then hand-pulled into tender, toothsome chunks and shreds.
Three large corn tortillas that had been dipped in rich birria broth and grilled were folded over a generous amount of meat shreds and chunks along with melted cheese, chopped onions and cilantro. A dish of excellent broth for dipping and a small bowl of savory charro beans came alongside. It was an excellent dish. Taco Week? Why wait?
A spinach Salad with avocado and orange ($7.99), marked new on the menu, was both pretty to the eye and good to eat, remarkable for its generosity and attention to quality ingredients. A big bowl was almost filled with baby spinach leaves that had been carefully cleaned and sorted. The bowl also held sliced red onions, brown mushrooms, half of a huge perfect avocado, sliced thin and fanned out, and slices of navel orange.  It came with a tub of creamy dressing, substituted without comment for the menu's promised raspberry vinaigrette.
Grilled elote ($6.99) is one of my favorite ways of improving corn on the cob. A very large yellow-corn cob with a stick in the end for easy handling was set up in the traditional Mexico City street-food tradition: Dressed in a light spread of garlicky aioli, then sprinkled with lightly funky grated cotija cheese and chile powder.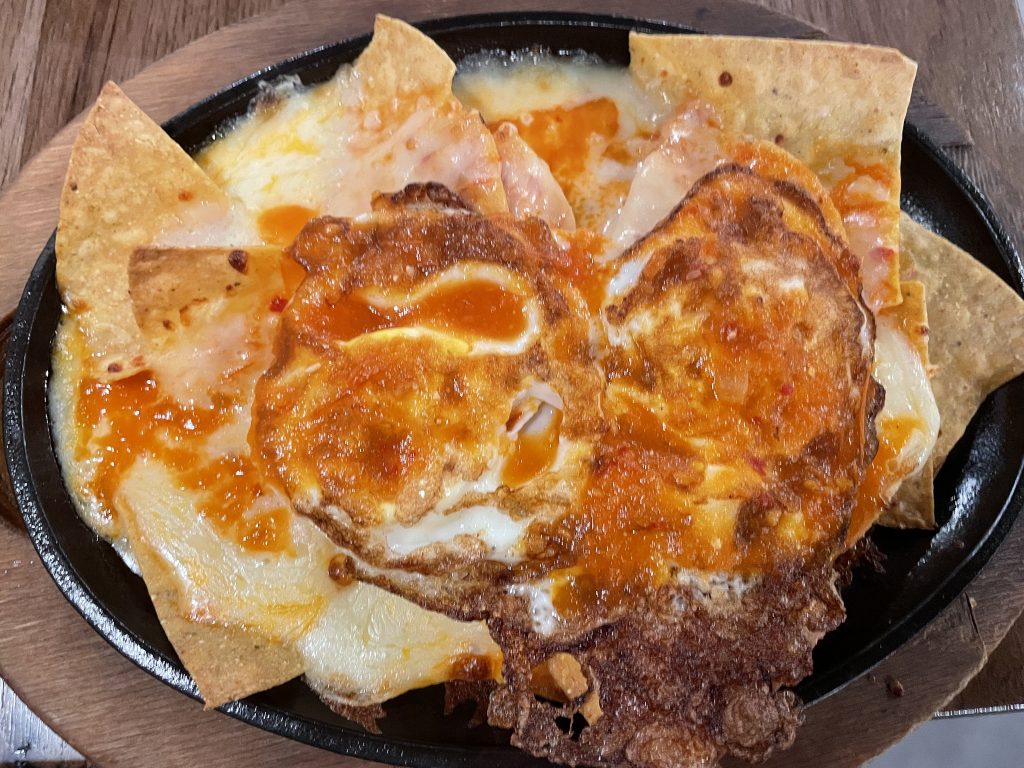 Chilaquiles ($8.99) also hit the spot. Fried corn tortilla quarters were slathered with red salsa (you may also choose green), a blanket of melted white Mexican cheese, and a portion of chopped onions. Atop this food mountain were a couple of fried eggs, more red salsa, and grated mild queso fresco. It was a hearty, filling dish, with the minor complaint that a super-heated serving dish cooked the eggs hard. A little soft yolk flowing into the tortillas and cheese is part of the joy of chilaquiles, and that wasn't happening here.
Mexican rice and refried beans on the side were fully satisfying. The rice was flaky with a smoky vibe; the beans were unctuous and smooth.
We didn't get away for Taco Week prices, but a hearty, filling meal topped out at a reasonable $42.36, plus a $10 tip.
Gustavo's Mexican Grill
401 S Hurstbourne Pkwy.
420-1100
gustavosmexgrill.com
facebook.com/gustavoshursbourne
instagram.com/gustavosmexgrill
Noise Level: There was plenty of buzz during a busy lunch hour, but conversation was never difficult.
Accessibility: The free-standing building appears accessible to wheelchair users. Much of the seating is in booths, but there are plenty of tables that would accommodate wheelchair users.
Other locations: 6051 Timber Ridge Drive, 434-7266; 10715 Meeting St., 690-7070, 6402 Westwind Way, Crestwood, Ky, 243-6950; and 1226 Market St., LaGrange, Ky, 222-4050