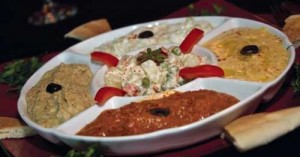 Mezza Plate at Dejlah Bistro. Photo by Ron Jasin.
LEO's Eats with LouisvilleHotBytes
]More than 7,500 years ago, historians say, early hunter-gatherers started moving in small bands down from the mountains north of the Persian Gulf to settle along the Tigris and Euphrates rivers. They saved and planted seeds, domesticated farm animals, and eventually founded the world's first cities, then its first empires, in Mesopotamia, the rich land "between the rivers."
The ancient Mesopotamians invented writing, not to mention bread, wine and beer. Indeed, the need to provide a growing population with food and drink inspired the first civilization, the fertile soil to which we all trace back our cultural roots.

In modern times, this land is called Iraq. Just as the sad legacy of wars in Vietnam and Bosnia have leavened Louisville's community with the cuisine of refugees and immigrant families, modern Iraqi delicacies are starting to appear in Louisville's eateries.
Welcome Chef Duraid Abdulrida (featured in a profile in the May 5 LEO Weekly), who recently opened Dejlah Bistro, an inviting new Iraqi restaurant in the St. Matthews strip that also houses Del Frisco's and Havana Rumba. Because this neighborhood is restaurant-rich, with Equus & Jack's and Café Lou Lou also around the corner, parking can be a challenge, but one that is worth overcoming.
Dejlah is pronounced "Deezh-lah," our friendly server said, the Iraqi name for the Tigris River. No mere Pan-Arabian fast-food eatery, this is a stylish dining venue. A few Mesopotamia-themed works of art adorn the bright red and yellow walls of the restaurant's two spacious rooms; an attractive short bar won't be used for its intended purpose, as Dejlah Bistro offers no alcoholic beverages.
The food, however, comes close to intoxicating in its own right. I know a restaurant has succeeded when I swoon over the appetizer and waddle out at the end of the meal, too stuffed to consider more, yet plotting what I'll try next time.
The menu isn't restricted to Mesopotamia, though, and offers a few familiar goodies from western and southern Asia, and beyond: hummus or tabouli salad ($6), tandoori chicken ($10), shrimp cocktail ($6) and the chef's take on tiramisu ($5).
The lion's share of the menu, though, appears authentic, and I'd rate it as highly for Iraq as I do Saffron's for Iran: This is serious ethnic fare, fashioned with skill and care.
Appetizers, salads and sandwiches range in price from $3.50 (for a cup of the soup of the day) to $9 for a mezza plate with tastes of hummus, baba ghanoush, semka (roasted pepper purée), jajek (yogurt-cucumber sauce), Russian potato salad and pitas. Sandwiches include the authentic (chicken mousakhan, $8, or shawarma, $7) and the familiar (a cheeseburger, $6, and a chicken sandwich, $7).
Entrées cover 15 options from $10 (for chicken or beef saaj — thin-sliced chicken or beef wrapped in flatbread) to $15 (for a mixed grill kebab of beef tenderloin, lamb chop and chicken breast). Several dishes are marked "vegetarian" or "vegan."
The aforementioned "Oh, wow!" appetizer was semka ($6), a rough and smoky purée of roasted red peppers, tomatoes, onions, tahini and a touch of spice, served with flaky pita triangles.
Chicken Top-Kapi ($12), listed as a "chef signature" special, consisted of half of a boned chicken served over a mix of rice, ground lamb and raisins. Delicious herb-roasted new potatoes and sautéed veggies came alongside, along with a cup of a savory tomato and corn relish.
Kuzee ($12) was an oven-roasted spiced lamb shank with an intense, somewhat gamey flavor — recommended only for lamb lovers like us — with a mound of almond-studded rice topped with short lengths of angel hair pasta.
We also tried a side dish of fried cauliflower ($2.50), which had been lightly dredged in spicy flour and fried crisp.
Dessert? We really shouldn't, but … well, OK. Zonood ($6) was an amazing Iraqi meal-closer, consisting of layers of phyllo wrapped around a sweet-cream filling and baked until crisp and golden brown, plated with a ring of fresh, sweet strawberries.
I'm not much for desserts, but I've got to come back for Zalabiya ($5), intriguingly described as "Iraqi funnel cakes with maple syrup topping."
We ordered so much that we took an overstuffed box home, pushing the bill up to a still reasonable $42.93. Courteous, prompt and well-informed service earned a $10 tip.
Dejlah Bistro
4121 Oechsli Ave.
895-8882
Robin Garr's rating: 88 points