"Whiskey" or "whisky"? What's the difference? For Chef Edward Lee, the "e" option was the way to go for his new liquor bar and diner, Whiskey Dry. This makes sense, since by general practice – enshrined in The Associated Press Stylebook that guides American media editors – bourbon, rye and Irish are whiskey with an ey, while Scotch, Canadian and Japanese are whisky with a y.
But Louisville people who grew up with Old Forester whisky and Makers Mark whisky aren't so sure about all this. Whisky or whiskey? This is the kind of whiskey-nerd discussion that would go just right with a glass or three at Whiskey Dry, Lee's latest venture that opened in Fourth Street Live last month.
The first thing that strikes your eye when you step in to Whiskey Dry is the wall of liquor, a floor-to-ceiling lighted back bar illuminating some 200 bottles of liquor on shelves like a drinkable library.
Lee, who founded 610 Magnolia and Milkwood , now spends much of his time in Washington, D.C., nurturing his new Succotash property there. He and  Stacey Stewart, who adds Whiskey Dry to her duties in charge of the bar program at Milkwood, have fashioned an extensive drinks menu . Its vast roster of bourbons and other world liquors  are listed in geographical categories, with house favorites marked by a tiny heart. Drinks come in 2-ounce pours, mostly ranging from $8 to $10 but rising upward for trophy items.
The simple, striking style features wood tones, whites and grays, highlighted by imaginative koi, wooden bourbon-barrel ends, and framed photos of bourbon in the making. In short, Whiskey Dry is a great bar, and it adds another big gun to Louisville's effort to stake our claim as the world center of bourbon tourism.
If you're expecting 610 or Milkwood-level food, though, your expectations may fall short. Liquor is the draw here, with a relatively affordable, tongue-in-cheek diner-style menu offering noshing opportunities to accompany the beverages. What's more, you're not a whole lot more likely to find Lee in the kitchen than you are to spot Guy Fieri in his joint down the block.
My friend Laura and I checked the cocktail list before we even got to the food. It features a half-dozen classic cocktails and a dozen creative house cocktails, priced from $8 to $16.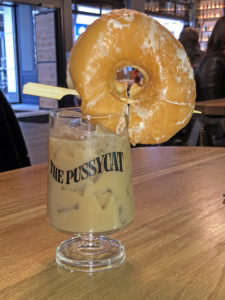 The Commonwealth ($12) looked interesting with its Kentucky-flavor blend of bourbon, sorghum coffee, peppercorns, sassafras and a shot of Ale-8, but no, we had to try the wacky coffee & donut ($11). This lightweight iced-coffee drink blends cold-brew java and condensed milk, a whiff of chili pepper and a shot of bourbon. Best of all, it's topped off with a whole Krispy Kreme doughnut perched atop the glass.
Lunch and dinner menus are similar, with a few price increases in the evening. A dozen snacks, salads, appetizers, and sides range from $4 (for spicy cashews) to $12 (for fried oysters). Three "Big Plates" are roast chicken ($22), roasted flounder ($23) and Koji New York strip ($38 at lunch, $39.50 dinner).
Seven burgers, served with hand-cut fries, range from $11.50 (for the West Coast with avocado or the roasted vegetable burger) to $25 (for a dry-aged beef burger with cheddar and bacon). Dessert? Try a Kentucky butter Bundt cake ($8) or an old-fashioned milkshakes ($8 or $9), or $12-$13 for an adult shake with a shot of bourbon or Irish).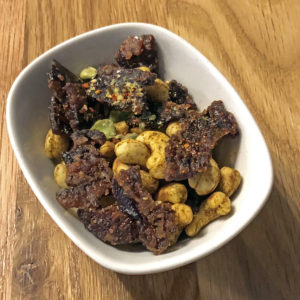 Spicy roast cashews with candied bacon ($4) got us off to a good start with a dish of crunchy roasted nuts dusted with cinnamon and curry; the bacon was dry and not too sweet.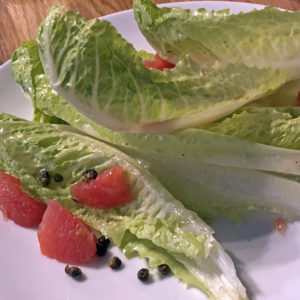 Salads were underwhelming. Smoked romaine hearts salad ($9.50) was pristine and fresh but spartan: crisp pale leaves tossed with canned red-grapefruit segments; the ricotta and dill mentioned on the menu were missing, as was any hint of smoke or vinaigrette. Three paper-thin green tomato slices sat on the bottom of a fried green tomato salad ($8.50), breading turning soggy in the dressing that dripped from wilted lettuce.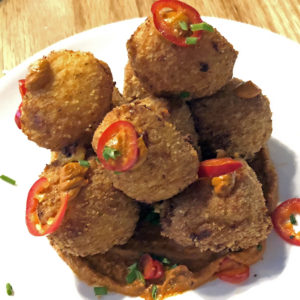 Pimento cheese curds ($9) fared better. Nine golden-brown fried spheres were filled with molten cheese and garnished with sliced red peppers, perched on piquant pink romesco sauce.
Burgers are built on big soft white buns. They are large, which is good, but they're hard to eat. A friend at a neighboring table gave thumbs up to her signature Big Ed burger ($12.25), two all-beef patties, special sauce and a fried green tomato, but said it's hard to handle a burger that's bigger than your head.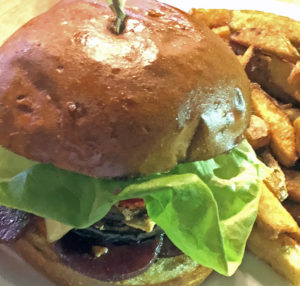 The same issue applied to our roasted vegetable "burger" ($11.50), also pictured above, a clever assembly of roasted beets, squash, eggplant, mushrooms, and sun-dried tomatoes mandoline-sliced paper thin, layered with melted cheese and carrot ketchup and dressed with pickles and lettuce. The flavors were great, but even cut in half, you couldn't eat it without the innards falling out on the plate.
With the donut cocktail and strong, fresh iced teas ($2 each), a filling lunch for two came to $60.95, with a $15 tip for our server, Grace.
Whiskey Dry
412 S. Fourth St.
Fourth Street Live
749-7933
whiskeydryrestaurant.com
facebook.com/whiskeydrylou
instagram.com/whiskeydry
Robin Garr's rating: 82 points