Speaking of biscuits, we stopped by Gracious Plenty's Prospect location on a Saturday recently with our friend Ann, and I was pleasantly surprised to discover its weekend-only brunch menu.
Briefly told, the brunch menu offers the usual suspects – eggs, bacon, sausage, pancakes and waffles and french toast – with nothing clocking in for more than the $9.99 Derby Lover Feast with three eggs, two biscuits with gravy, bacon or sausage, cheese grits and a pancake! Brunch beverages are on the menu, too, including a bloody mary or tequila sunrise for $8 or a mimosa for … wait for it … one dollar!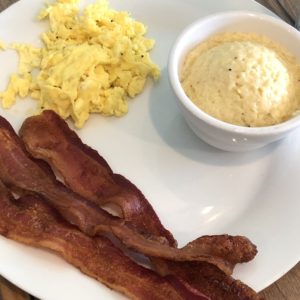 An a la carte order of well-made scrambled eggs, thick bacon and extra-cheesy grits made a filling breakfast; so did a build-your-own quesadilla ($8.99, pictured at the top of the page) stuffed with scrambled eggs, cheddar, mushrooms, onions and cilantro, with avocado on top.
A regular-size biscuit was fluffy and tender, not flaky nor crumbly, just right with plenty of butter. The tab for three came to a thrifty $31 plus tip.
Gracious Plenty
9207 U.S. 42
618-4755
graciousplentycatering.com
facebook.com/gpprospect
Another location (carry out only): 2900 Brownsboro Road
Robin Garr's rating: 82 points.
Noise level: Our party of three had no difficulty carrying on a conversation. (Average sound was 72dB, comparable to living room background music, occasionally peaking to a shrill 91dB, akin to a nearby motorcycle.)
Accessibility: The shopping center space is accessible to wheelchair users, but front-door thresholds have a bumpy concrete fill that could require a strong push to bump over.