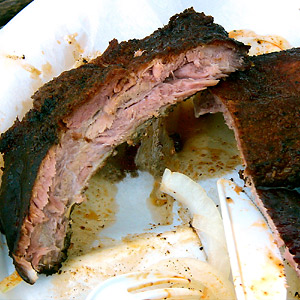 The ribs at Frankfort Avenue Beer Depot (F.A.B.D.) are possibly the best yet Photos by Robin Garr.
LEO's Eat 'n' Blog with Louisville HotBytes
(Rite Way, Smoketown USA, F.A.B.D.)
Speak of barbecue, and many of us will visualize a rural scene: A tarpaper shack, well off the interstates out in blue-highway country, sporting a washing machine on the front porch and a primer-coated car sitting up on blocks in the front yard. Out back, a black iron drum smoker wafts up seductive scents of sweet hickory smoke and gently roasting pork. And then our mouths commence to watering.
In fact, nowhere is it written that proper barbecue requires a road trip. Rural though its roots may be, many a master of 'cue – or his grandparents – has come to the city, where those aromatic smokers now stand proudly behind trim shotgun houses or sturdy brick storefronts, with nary a washing machine or wheelless '39 Ford in sight.
Continue reading Right on 'cue: three great spots for ribs →