By Robin Garr
LouisvilleHotBytes.com
Biryani: India's mouth-watering rice dish, a meal in itself, stands tall against other national rice-based competitors such as Spain's paella, Italy's risotto, Nigeria's jollof rice, Indonesia's nasi goreng, Louisiana's jambalaya, or Persia's pilaf.
What is biryani, anyway? It's a hearty rice dish layered with lamb, chicken, fish, or vegetables, scented with saffron and aromatic Indian spices, sauced with a thick gravy, and roasted in a covered pot until the flavors join in a resounding gustatory chorus. 
Biryani topped the takeaway charts across India last year, The Times of India reported. One online-ordering app tallied 60 million plates of biryani delivered in a single year, topping the nation's food popularity charts.
So where can we sample this tantalizing treat? Just about every Indian restaurant offers a variation, but if you want to make your taste buds sing, I recommend a visit to Hyderabad House, a year-old Indian spot in a short strip of shops in Middletown.
"Experience the taste of authentic Indian food that will pamper your taste buds like never before," Hyderabad House boasts on its Facebook page. You can get lots of traditional Indian treats there, of course, but biryani is the clear specialty, with 35 variations listed on an entire menu page and more on its special weekend menus.
About one-third of them are vegetarian, with the rest divided among egg, chicken, goat, lamb, and seafood variations. They come in three sizes: Regular, a family pack big enough for four, and biryani in a bucket – I am not kidding about this – the size of the Colonel's biggest bucket but much more tasty. Prices range from $13 to $18 for the regular. size, which will easily feed two, to $44 to $58 for the family packs and buckets, which are made to-go only.
The rest of the menu is worthy, too. It features about 100 Indian regional specialties priced between $10 and $18. There's a selection of nine pulavs, akin to pilafs, which are made only Fridays through Sundays. They're priced in the same range as the biryanis, and I want to go back and try one soon.
It took a while to absorb the menu, which contains a lot of less familiar Indian names. (Bring your Google, or rely on the help of the friendly servers.)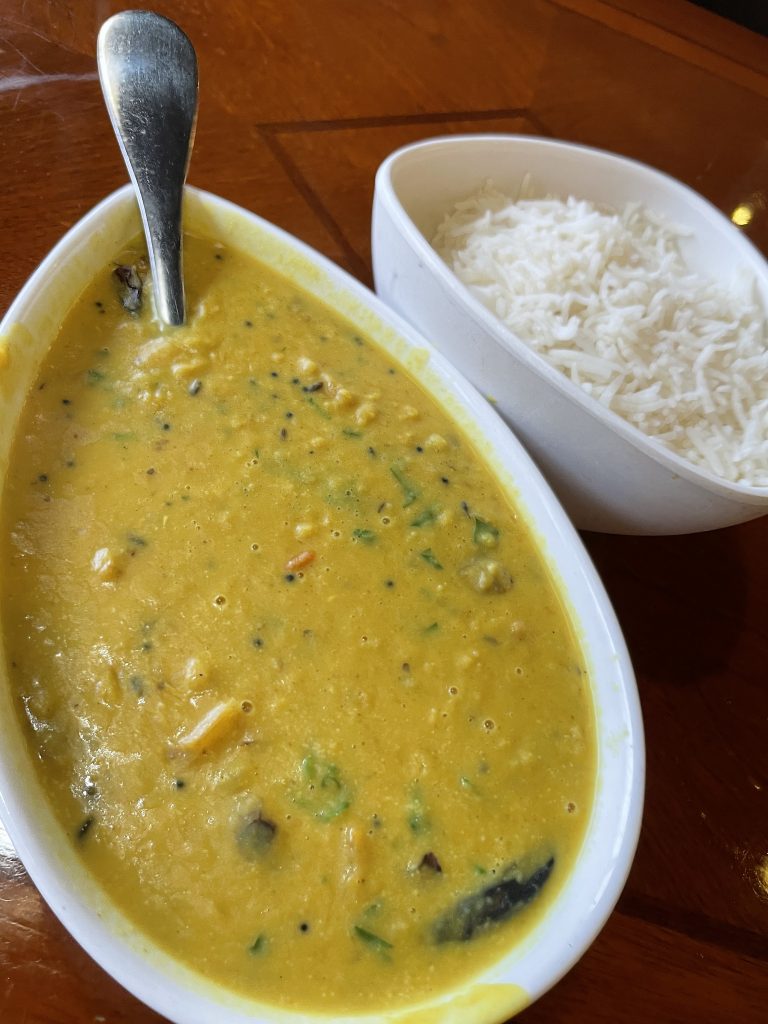 The name of creamy coconut daal curry ($13) was enough to get it onto our table in an attractive teardrop-shape white bowl. Yellow lentils bathed in a simmering bright-yellow curry-scented soup studded with a few bright cubes of tomato. The mild lentil flavor blended with coconut and turmeric scents with haunting back notes of mysterious, delicious Indian flavors. Ordered mild, it presented a gentle heat imparted by a single small charred chile pepper. It was served with a bowl of perfectly prepared basmati rice: very long grains, fluffy and separate. Hyderabad House knows its rice.
They're good with bread, too: Garlic naan ($4) was soft and tender and very garlicky, with puffy bubbles and a few sweet char marks, painted lightly with ghee, and a bit of chopped parsley on top.
I studied the three dozen biryanis with growing bewilderment and eventually enlisted the server's advice to end up with eggplant-stuffed gutti vaka biryani ($15), pictured at the top of the page.
Dishes come just in three levels of heat: mild, medium, and hot. I bravely asked for hot, but in retrospect, since there was no hotter option, that may mean hot-for-Indian-palates. The server apparently took pity on me and brought me medium anyway, a decision that he did not mention until I saw it on the tab. It was a good call. The medium heat was plenty palate-scorching. Another step up might have been … problematic.
I must have seen a dozen biryanis of various forms being rushed to tables. It really is the specialty here, especially on weekends. They all look similar: A mountain of tricolored basmati – plain white, turmeric yellow, and saffron orange – piled on a square white porcelain plate. A few small purple eggplants peeked out the top of my dish, with several more in a layer inside, and a fiery hot-sweet sauce had been poured over. Strips of raw red onion and lots of chopped cilantro were strewn on top, with a single lime wedge in the corner.
The eggplants had been roasted until their skins turned crisp with char marks and the insides were tender, smooth and creamy; the better to soak up the thick, fiery sauce that appeared to be made of more roasted eggplant flesh.
A tart reddish-brown sauce, maybe tamarind-based, dotted with chile oil, came alongside and I used it freely, along with another side dish of yogurt-based raita.
Both the dishes boasted alluring, endorphin-boosting flavors and aromas that are hard to define but easy to like: aromatic and distinct, not floral but complex, distinct, so you can sense waves of flavor washing over your tastebuds before moving on to make way for another wave of an entirely different flavor, and on and on. This is Indian food at its best, and that's what keeps bringing me back.
An abundant meal for two came to $33.92, plus an $8 tip.
Hyderabad House Louisville
12412 Shelbyville Road
405-8788
hhlouisville.com
facebook.com/hyderabadhouselouisville
instagram.com/hyderabad_house_louisville
Noise Level: The room was just about full on a Saturday, but the well separated, high-back booths kept our table in a cone of silence.
Accessibility: The restaurant appears fully accessible to wheelchair users, and except for the booths, it would be easy to bring a wheelchair up to any of the tables.