Let me tell you why I love El Mariachi so hard: Even the chips and salsa that drop on your table the moment you take a seat are exceptional. These thick, deeply corn-flavored treats, fashioned on the premises from fresh-made tortillas, are positively addictive. They're so crunchy that I had to look twice to persuade myself that they weren't lightly breaded before they were fried.
Yes, the salsa is first-rate, too, a finely mashed reddish-brown puree of red chiles, tomatoes, and herbs, just spicy enough. But those chips? Perhaps the best I ever ate, I really could make a meal of them, if that didn't involve missing out on the rest of the menu. But I can't do that. It's too good to skip.
If you make the trip to visit El Mariachi – and you really should – save some time to visit the other Mexican shops along the side of this little adobe-color strip center. A carniceria (butcher shop), supermercado (grocery), panaderia (bakery) and tortilleria (tortilla factory) flank the restaurant and offer a wealth of Latino delights. The stores are part of the local Guanajuato chain, named after the historic city and rich agricultural region northwest of Mexico City.
The decor shows significant effort. It's bright and exuberant with bold primary colors. Heavy chairs and shiny table tops are individually painted with striking images such as toucans, ox carts, village scenes, Aztec women.
The eight-page menu contains a large variety, covering a broad range of Mexican regional cuisines, even crunchy tacos, burritos, and other Tex-Mex treats for those who prefer more familiar fare.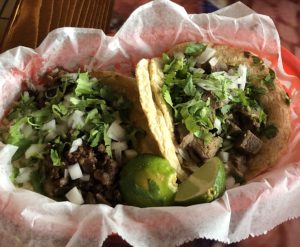 Ten taco options range from $1.99 to $2.75; but you also have a choice of similar hand-held treats from other Mexican regions: gorditas ($2.99), huaraches ($7.99), and sopesitas ($2.99), each available with your choice of about a dozen meats.
Ten tortas ($7.99-$9.99) are built on fine three-lobed bolillo loaves from the nearby panaderia. Fajitas and Mexican favorite dinner plates range in price from $8.99 (for chiles rellenos or enchiladas) to $15.99 (for fajita nachos or the signature fajita Guanajuato loaded with arrachera skirt steak and Mexican sausage). Caldos, traditional Mexican soups, are $11.99 to $14.99, and menudo, the iconic Saturday morning hangover-killer made with beef tripe. is $8.99 for a small bowl or $11.99 for a grande portion.
Generously portioned entrees include a dozen seafood choices from $12.99 (for coctel de camaron (shrimp cocktail), to $17 (for aguachiles, Mexican-style shrimp ceviche), plus top-end plates for a group: cucarachas ($25, spicy shrimp in the style of Mexico's Nayarit region), or molcajete de mariscos seafood platter ($29.99). Molcajete plates de la parrilla (from the grill), served in stone bowls, are $14.99 and $16.99 for combo meat and seafood plates.
Mexican and mass-market American beers are available, as are Coca-Cola products ($1.99), fresh-fruit aguas frescas ($4.50 for 32 ounces), and Mexican soft drinks ($1.99), including Mexican Cokes with cane sugar and Jarritos drinks. I don't always drink sugary soft drinks, but when I do, it's a Jarritos tamarindo ($1.99), a sweet-tart mix of sour tamarind and cane sugar that fills Coke with sick envy.
A taco ¸de asada and a lengua taco ($1.99 each, pictured above) were served Mexican style, doubled fresh corn tortillas topped with steak and beef tongue, respectively, and cilantro and onion. The meats were excellent, particularly the tender, moist bits of tongue.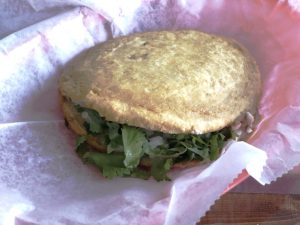 A fat gordita ($2.99) was remarkable: A thick, tender corn cake was deep-fried until the surface was shattering crisp, then split horizontally and filled with your choice of a dozen taco meats, beans and cheese, or rajas (grilled poblano pepper strips) and cheese, and finished like a Mexican taco with fresh cilantro and raw onions.
A side order of guacamole ($3.99) was fresh, clean, and properly minimalist, simply chunks of fresh avocado mashed with tomato and onion and left at that.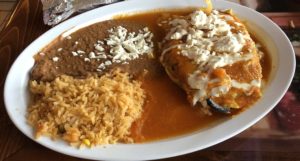 A chile relleno ($8.99) was presented in traditional fashion: A good-size green poblano pepper, roasted and peeled, was filled with creamy queso blanco and cloaked with rich, eggy batter baked into a Mexican-style omelet. Tender Mexican rice and rich, savory brown beans made a fine accompaniment.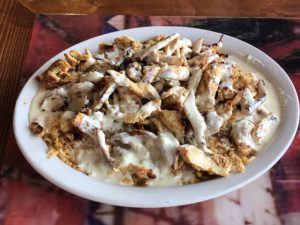 Arroz con pollo ($9.99) was delicious, although it did surprise us with an idiosyncratic treatment: Rather than the usual spicy tomato and red-chile sauce, this hearty dish was enriched with cheese instead. Not that I'm complaining. A huge portion, maybe 8 ounces, of tender chicken had been pulled into strips, then grilled until the edges were toasty, placed over El Mariachi's fine Mexican rice, and topped with thin but creamy white cheese sauce.
We ate way too much, lugged boxes home, and still couldn't push our tab past $33.85 for two, plus a $10 tip for two friendly and helpful servers to share. (Servers speak only basic English, but don't let that deter you. Pointing at the menu gets the job done, and they are eager and willing to serve.)
El Mariachi Restaurante Mexicano
9901 Lagrange Road
413-5770
elmariachilouisville.com
Facebook: bit.ly/ElMariachi502
Robin Garr's rating: 89 points
Noise level: Conversation was easy with the restaurant less than half full. (Average sound was 65dB, the sound of a quiet street, with occasional spikes to 78dB, the sound inside a moving car.)
Accessibility: The restaurant appears accessible to wheelchair users, but the men's room, although spacious enough to accommodate wheelchairs, lacks accessibility modifications.