When life gives you lemons, make … tarte au citron?
Louisville Chef Matthew Alan Henry is doing something like that, but better, and with a heart that's as big as the Derby City.
Henry, whose friends call him Alan, boasts a culinary pedigree that extends from Culinary Institute of America through Butchertown Grocery, Naive, and most recently Union 15, where he opened the Colonial Gardens shop and was busy setting up another outlet in the former Butchertown Pizza space, until the pandemic shut everything down.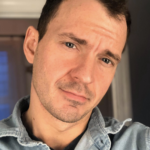 Now with the pandemic roaring, he's laid off for the duration. But he's working harder than ever, cooking nearly 100 meals a day in his home kitchen and distributing them to seniors, hospital workers, fellow restaurant workers, even the garbage workers who came by his house at midday the other day.
"My goal is to do at least 50 meals per day out of my house," he said in a Facebook Messenger conversation, "though I'm already breaking that by a long shot."
He's also got a GoFundMe drive going, and you're welcome to contribute as much as you can, or whatever you can to help him reach his goal of $2,000, enough to pay for 285 more meals beyond what he's funding out of his pocket and gifts from friends. Click right here to lend a hand. At this point, he's just over halfway to his goal.
"Pushing forward with gratefully received donations," he wrote on that page yesterday. "Expect me to step up my game this week! Please contact me if you are in need. No donations necessary to get meals to take care of yourselves and families! Those able to give are doing a great service to others. Thank you all and keep your chins up!"
He's got a natural cheering section among friends and family: His Mom even tweeted out a screen shot of Alan's GoFundMe page to TV chef Alton Brown.
Meanwhile, he continues building and shipping out meals as fast as he can. If you're out of work and hungry and need a meal, look him up on social media, Matthew Alan Henry on Facebook.
"People can message me their needs too and I'll preset packages for them," he said. "All I really have to add is that I'm very happy being able to give back by doing what I love. And there is no gift greater than the gift of nourishment."
It's attitudes like this that can get us through the storm. Thanks, Alan Henry!