What's up, Doc? We brought high hopes to your new Cantina but left bewildered, leaving unfinished one of the worst restaurant meals I've had since we chose a Denny's for lunch in Denver in 1992.
I don't get it. You guys are doing so well at Doc's other place, Doc Crow's. You knocked the ball out of the park with Basa. And I'm still crying over the loss of Le Coop. You guys can do it! You've got skills!
But somehow your passion got left behind when you opened this promising new riverfront venture last month. What's up with that, Doc?
You replaced Tumbleweed, Doc! That's a mighty low bar! Looking on the bright side, you made the place look great, spiffying up the interior with eye-catching Mexican designs in pretty pastels. Creative angles divide the large space into more intimate sections. You've invested in quality tableware and heavy, rough-hewn tables.
Plus, the riverfront views are amazing! You've got local drinks guru Brett Davis on your team, and that guarantees an excellent bar program and intriguing wine list. Our server, Sarah, was friendly. This is all good.
But sweet Jayzus! The food! And the time it took to get it to the table! Doc, Doc, Doc. Bless your heart, man, you can do better than this. Er, you can, can't you?
Let's start at the beginning. We came in around 11:45 a.m., figuring we'd beat the lunch crowd. Good choice. There were only a few people in the dining rooms.
We checked your Facebook page and made several picks from the menu. D'oh! You rolled out a new menu without updating your social media, killing a bunch of dishes including everything that we had in mind. No more molletes! No more fried-mushroom taco! No more watercress salad with roasted chickpeas. The menu is shorter, and it's not that inexpensive, with most dishes priced from around $10 to $20.
Fair enough, we bounced back and ordered a bunch of other stuff.
And then we waited.
And waited.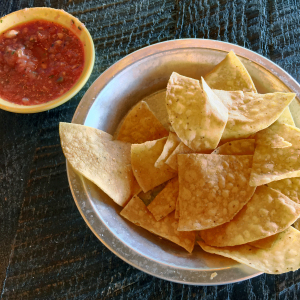 And waited some more. Thanks for the salsa and chips. The chips were good. The salsa, not so much. It was edible but mediocre, and it looked odd, with pulpy tomatoes oozing clear fluid at the edge of the plate.
So we finished the chips and looked around. Nice view of the river and the bridges. Twenty minutes later our $7 guacamole finally came. Our server, who did her best to save a deteriorating situation, noticed that our chips were gone and said she'd bring more. She did, too, eventually, apologizing that it took so long. The guac was OK, fairly one-dimensional except for an odd burn that lingered in the back of my throat. Cayenne, perhaps? This seemed odd in guacamole, but I didn't mind it much. Mary minded it more.
At one point one of your servers told us our food "would be out in just a minute." That's usually a bad sign, and indeed, it was not out in just a minute.
We were surprised to see lengua (beef tongue) tacos on the menu ($14). You don't usually see it outside storefront taquerias. Good sign, we thought. This place might be real.
Nuh uh. The tacos came — yes, they did eventually come, about a half-hour later — three on a plate with small sides of pasty-thick, gluey black beans and limp "green" rice, apparently so called for a few leaves of tired, flavorless cilantro.
The beans, oddly, had that same throat-burning cayenne flavor. And, much to our surprise, so did the lengua. Small cubes of tongue apparently had been stewed in a thin red cayenne-laced sauce, topped with what could have been an interesting salsa of julienned radishes and smoky morita peppers, in tortillas with the texture of cardboard. Do you know what they tasted like, Doc? Hot peppers. Moritas, maybe, and I think more of your cayenne. Do you buy that stuff by the pound? It's in everything!
So, after about the fifth time one of your servers tossed us a ritual "is everything OK?" Mary told him, "No." She gave them a little lecture, too.
We traded them in for fish tacos ($13), which were more satisfying, but only just. Those cardboard tortillas wrapped three breaded-and-fried fish "fingers." At least there was no cayenne, perhaps thanks to Mary's rant.
Does it get any better that this? No, Doc, it did not. Corn chowder ($5) was thick and gloppy, with an odd orange-tan color, and it had an odd, funky aroma that I hope was Mexican cheese.
I ordered a side dish of elotes ($4) with delight, but this Mexico City street treat was poorly executed too. Soggy, chewy corn was painted with something brown and specks of cheese. I stopped after two bites. Go visit your friends at Mussel & Burger Bar to see how elotes work, Doc.
With iced tea, our lunch was a somewhat spendy $37.10, plus a $6 tip for Sarah, who didn't mean anybody any harm. We left most of our lunch uneaten. What's up with that, Doc?
Doc's Cantina
1201 River Road
822-6732
docscantina.com
facebook.com/DocsCantina