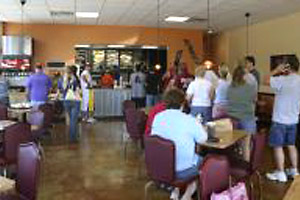 Lining up for lunch at Taco Tico. LEO photos by Nicole Pullen
LEO's Eat 'n' Blog with Louisville HotBytes
(Taco Tico, Taco Bell, El Zarape)
Way back at the dawn of time (oh, all right, during the 1970s), back when most people in Louisville thought "nacho" was just a cool way of saying "righto" and even the cognoscenti pronounced "taco" as "tack-oh," indeed even before the first Taco Bell rang the region's chimes, there was Taco Tico.
(Actually, for the sake of historical accuracy, the first Taco Tico was founded in Wichita, Kan., in 1962. Glen Bell opened his first eponymous taqueria in Downey, Calif., that same year. Louisville, however, slow during that era to embrace culinary change, failed to embrace the fast-food taco for a while.)
Taco Bell, of course, prospered and grew. Now a property of Louisville-based Yum! Brands, it boasts about 6,000 outlets around the world. Taco Tico, on the other hand, topped out in the '80s with about 120 outlets before falling off to about half that peak. It's in just eight states, the lion's share in Kansas and nearby states, with a handful in Kentucky.
But now, after a 10-year hiatus, Taco Tico is back in Louisville Continue reading Mexican hat trick: tacos three ways →