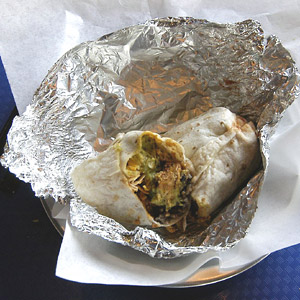 Salsarita's chicken burrito with black beans, medium salsa, guacamole, lettuce, cilantro, red onions and cheese. Photo by Robin Garr.
LEO's Eat 'n' Blog with Louisville HotBytes
(Qdoba, Moe's, Salsarita's)
When a top chef takes a break from cooking for other people and ventures out to dine on someone else's fare, what goodies is he likely to choose? Ethereally trendy foams and smears and other cutting-edge num-nums of molecular gastronomy?
Well, maybe.
But if you ask Chef Dan Thomas, sous chef at Big Spring Country Club and late of City Café, Café Metro and Equus, about the casual snack that smacks his piñata, a fond, distant look comes into his eyes and he literally licks his chops.
"Burritos," he said. Continue reading Chef Dan seeks out the little donkey →