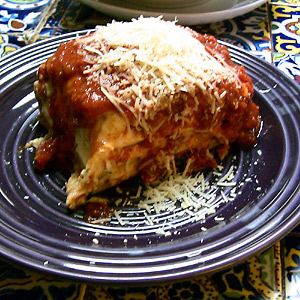 Le Gallo Rosso's lasagne is as big as a brick, with hearty layers of pasta, ground pork and veal, well-fashioned tomato sauce and cheese. Photos by Robin Garr.
LEO's Eat 'n' Blog with Louisville HotBytes
(Le Gallo Rosso, Melillo's)
If you've been around the Louisville dining scene long enough to remember back when the old landmark Casa Grisanti was still a pizzeria, you know that long before there was trendy "Northern Italian" we had spaghetti with meatballs and plenty of spicy red tomato sauce. Extra credit for red-checked tablecloths, plastic grapevines and wicker-wrapped Chianti bottles recycled as candle holders.
To get technical about it, "Northern Italian" isn't really authentic Italian so much as a somewhat idealized American rendition of popular dishes from all over Italy. The genre gained traction during the 1970s as a lighter, more upscale reaction to the hearty tomato-sauce Italian that had gone before.
In fact, the red-sauce genre is arguably more honest, drawing its inspiration from the heritage of Southern Italy – Calabria and Sicily – filtered through New York, New Jersey and the Northeast by immigrants in the Ellis Island era.
Continue reading Hey mambo, mangia Italiano! →